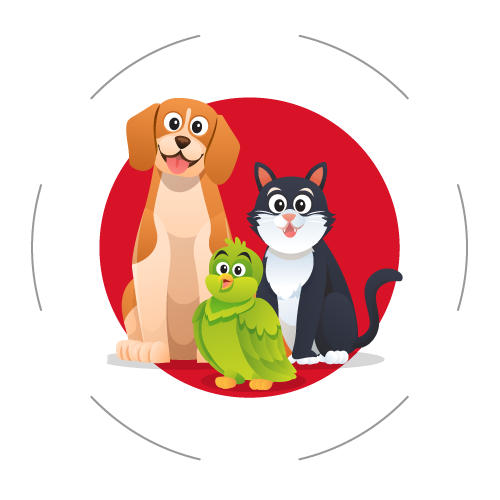 Caitec has been elevating pet life for over 30 years with innovations in pet toys, treats and food.

The leader in puzzle and treat toys, toys for foraging, dental health, interactive play and socialization, functional treats, nutritional food, and toys that nurture your pet's natural instincts.
Click the icons in the diagram to learn more
Mental stimulation is important for all dogs, but if you have a very intelligent dog, it is even more important to keep your dog entertained. This is especially true if you have a working-breed who doesn't have a 'job' to do.
Back
Even though pets don't go to the gym, they DO need regular exercise to stay healthy. Just like human beings, pets that don't get enough exercise can face health problems. They may become obese and struggle with issues like diabetes, heart disease, and respiratory problems.
Back
Socializing teaches your pet how to react to the world around it in a healthy way, without unnecessary fear or aggression. Starting early can eliminate additional challenges for both you and your best friend.
Back
Keeping your pet's teeth and gums healthy will help prevent oral pain, prevent organ damage, and reduce bacteria. Bacteria in the plaque can enter the bloodstream and spread to the heart, kidneys, and liver. This spread of bacteria, called bacteremia, can damage organs, and make pets very sick.
Back
Good nutrition also aids in proper digestion for your pet, and it's the carbohydrates in your pet's food that offer the fiber that helps with both digestion and elimination. Your pet's food should be made to ensure nutrients are readily available to the digestive system, which allows the body to easily absorb them.
Back
Nurturing Natural Instincts
As pet owners, most of us are aware of the importance in giving our dogs and cats plenty of physical and mental exercise. Safely engaging in activities that allow their natural, predatory instincts to flourish will help focus tendencies like stalking, chasing, grabbing, and hunting into positive reward-based play time.
Back
Featured Categories
For all your needs we have the best thing available
What Our Customers Are Saying
Great way to keep a puppy entertained. I fill these with pumpkin, green beans and cottage cheese and freeze them. My growing dog LOVES them!

Barbara M.
Hero USA Value Pack

This is our dogs favorite ball. We had to buy a new one because a fox stole our first one out of the
yard.

Robin S.
Amazing Squeaker Ball

One of the very few my heavy duty chewer didn't destroy! Squeaker still works after weeks!!

Cynthia M.
Hero Puppy Value Pack

The size and quality are fantastic! The chuckles are what really draws the attention of the pups and keeps them entertained for hours!!

Erica H.
Hero Chuckles 2.0 Moose
Featured Products
Loved by doggos and their parents.